Justin Morris – Physiotherapist
Justin completed his bachelor of physiotherapy from James Cook University in Townsville before moving to Melbourne and joining the Hoppers Physio team in 2017.
He has a keen interest in the musculoskeletal field and working with both the general and sporting populations. Justin aims to work together with all clients to achieve their desired outcomes throughout their preparatory and rehabilitation phases.
Outside of work, Justin enjoys doing a range of activities from staying at home playing guitar or watching TV, to experiencing everything Melbourne has on offer.
Amy Kight – Physiotherapist
After graduating with a Bachelor of Health Science at La Trobe University, Amy then went onto complete the Doctor of Physiotherapy at the University of Melbourne. During her two and a half year's experience as a sports trainer, she developed the skills and passion for sporting related injury, assessment and rehabilitation. She has a special interest in treating all types of musculoskeletal injury, and aims to work collaboratively with patients to keep active and achieve their goals. She has recently completed Pilates certification and uses Pilates based exercise principles during treatment. In her free time, Amy enjoys spending time outdoors, finding excellent coffee spots and catching up with friends.
Brianna Thomas – Myotherapist
Brianna graduated from Endeavor College of Natural Health with a Bachelor of Health Science & Musculoskeletal Therapy. She has been working as a Myotherapist for the last 3 years at a multidisciplinary health clinic.
Her interest in all things rehab, injury & health related first began when she was younger during Taekwondo training, where she suffered a sporting injury herself. From there, Brianna was in physiotherapy appointments (right here at hoppers physio!!), Pilates classes & also began swimming as part of her rehab. It was through this that Brianna learned and appreciated the great benefit that treatment, along with client education and exercise had. Because of this, Brianna has a keen interest in helping others, particularly using her knowledge and experience in helping clients recover after an injury.
She has been trained in various techniques which she incorporates into her treatments, including cupping and dry needling.
She is looking forward to working with and learning from therapists here at hoppers physio, & is excited to be joining the team!
 Thomas Nemeth – Physiotherapist
Originally from the city of Edmonton in Canada, I moved to Melbourne to undertake my postgraduate physiotherapy training, and graduated in 2017 with a Doctor of Physiotherapy, with distinction, from the University of Melbourne. Growing up, I have always been passionate about sports, and after enduring multiple injuries associated with playing club level soccer, I developed a keen interest in various musculoskeletal and sporting injuries. Although I no longer play competitive sport, I have continued to stay involved on the sidelines, having worked as a sports trainer for Box Hill and Melbourne Unicorns Rugby Union Clubs, as well as with the Melbourne University Lightning Netball Club in the Victorian Netball League. In my spare time, I enjoy making music, keeping active at the gym, and seeking out good Melbourne coffee and brunch spots with friends.
 Katherine Bustamante – Myotherapist
Katherine studied Advanced diploma in remedial massage at Victoria Fitness Academy and graduated in 2015. She started working at Hoppers Physio in 2016. Katherine got into the field of massage because of her love of helping people get back into form and regain freedom of movement and pain. She is interested in rehab and pain management.
She is a mother of 4 and always keen to learn new things and in her spare time she loves to draw and spend time with her family.
 Phillippa Clark – Physiotherapist
Pip joined the team after completing her Bachelor of Applied Science and Masters of Physiotherapy degree at La Trobe university in 2018.
Throughout her degree Pip has worked as a sports trainer for Diamon Creek football club. Here, Pip developed a passion in assessment and management of sporting and musculoskeletal injuries. Further, Pip also participated in the FitSkills program, helping to develop and implement gym programs for individuals with disabilities. This helped her to develop both a passion for and skills in exercise rehab for individuals of all capabilities.
Outside of work Pip enjoys participating in a range of activities including running, going to the gym, coaching rowing and spending time at the beach!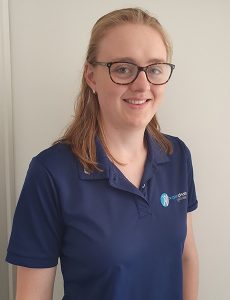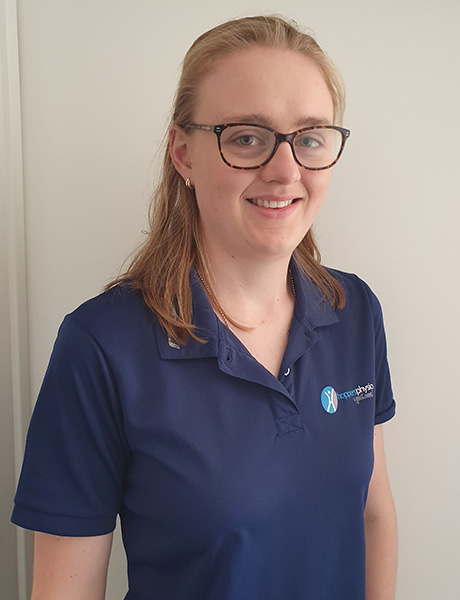 Sarah Watson – Physiotherapist
Sarah completed her physiotherapy degree at Monash University, Victoria. Since graduating, Sarah has worked throughout Gippsland, in public and private sectors. This has included hospital, community health and private practice. This is where Sarah commenced work in continence and pelvic floor physiotherapy, and subsequently completed her post-graduate certificate in 2019 at Curtin University.
Sarah started work at Hopper's Physiotherapy/Western Women's and Men's Health in January 2020. She is passionate about improving awareness of pelvic floor disorders. Her interests include bladder urgency and overactivity, pelvic pain, bowel dysfunction and prolapse.
Sarah also works with musculoskeletal injuries – and enjoys providing treatment to those experiencing chronic pain. She takes a holistic approach to help achieve clients goals.
In her free time, Sarah enjoys spending time with family, reading books, hiking and camping.
Anthony Frandina – Physiotherapist
Anthony completed his Masters in Physiotherapy Practice at La Trobe University Bundoora after finishing his undergraduate degree in Exercise Science at La Trobe. Since then he has worked as a sports trainer for local soccer teams in Geelong.
Anthony has a passion for helping those with not only sporting injuries but also common musculoskeletal injuries that occur during everyday living and activities.
He love's all things sport, having played both soccer and Futsal (indoor soccer) since the age of 7 and being an avid footy follower since a young age.
In his spare time he enjoys seeing friends, running, watching any form of sport or going on hikes.
 Daniel Krsticevic – Remedial Massage Therapist
Daniel joined the team in 2019 after completing his Diploma of Remedial Massage with RMIT. He has a passion for musculoskeletal anatomy and is furthering his training by studying osteopathy at Victoria University while he works. He is currently working with the Werribee City Soccer seniors as a sports trainer. Daniel got into the field to help people reduce their pain from chronic conditions and to regain mobility and flexibility.
Daniel spends his spare time by studying, watching classic movies and spending time with friends and his large family.
Zorica Sekuloska – Accredited Practising Dietitian
Zorica started work with Nutrilicious Dietetics in 2010 as a Nutrition Assistant, a position she held whilst undertaking her Human Nutrition degree at La Trobe University. Zorica achieved the degree with Honours in 2012, before progressing to the Master of Dietetic Practice. Zorica's Honours research project evaluated the nutritional status of the adult cystic fibrosis population of Victoria using body mass index and body composition methods.
Zorica is passionate about diet-related disease prevention, focusing on a balanced diet and healthy living. Her passion for dietetics developed at a young age having witnessed the health difficulties of family members related to nutrition. She has developed a particular interest in gastroenterological health, diabetes and cardiovascular health.
Zorica also has a passion for providing nutritional education and tailoring nutritional advice for each individual she consults. Zorica has also gained experience as a Dietitian and Facilitator with the Victorian Government's Life! Program, whilst also continuing her work with Nutrilicious Dietetics.