Nevine is a conscientious Physiotherapist offering 25 years of clinical experience and 16 years of continence and pelvic floor physiotherapy experience in hospitals, community health centres & private practices.
With a post-graduate certificate in continence and pelvic floor physiotherapy attained at Melbourne University; Nevine is passionate about enhancing her knowledge, and experience in order to deliver best practice and offer her clients exceptional customer service & evidenced based treatment.
Conditions I have treated include:
Bladder conditions: Urinary urgency, Urge and Stress Incontinence, voiding dysfunction: incomplete bladder emptying, Pelvic Organ Prolapse, Bladder pain syndrome, and overactive bladder, and for men obstructed voiding associated with prostate enlargement or post Radical Prostatectomy.
Bowel conditions: Constipation, IBS, Dysynergic defaecation, Anismus, Incomplete bowel emptying and faecal/anal incontinence, Pelvic Organ Prolapse, post Obstetric Anal Sphincter injuries
Vaginal conditions: vaginismus, dyspareunia which may or not be associated with gynaecological surgery.
Musculoskeletal pain associated with ante/postnatal clients: Pelvic Girdle pain, symphysis pubis and SIJ dysfunction and Lumbosacral instability, DRAM, Perineal tears Grade 2-4, Tx dysfunction.
Chronic Low Back pain- functional restoration programmes and Pilates
Cervical instability, headaches, migraines, and vertigo.
Shoulder subluxations, instability, tendonitis, and frozen shoulders
Osteoarthritis and rehabilitation programmes to help relieve joint pain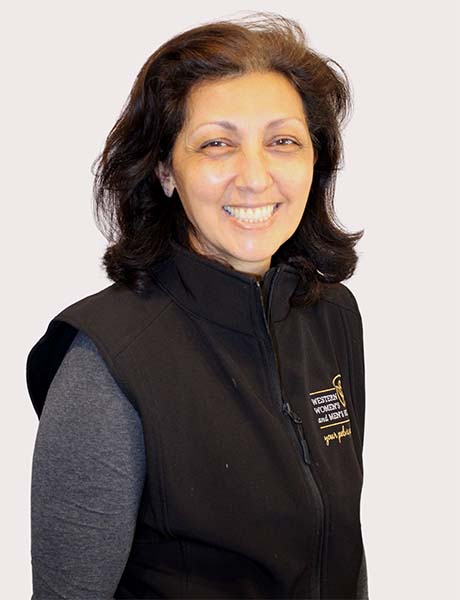 Nevine prioritises her time in listening to client's concerns, anxieties which may feed  into their bladder/bowel/prolapse and/or vertigo complaint, and how their condition is  limiting their quality of life in relation to their family, work, sport and activities of daily living such as walking, driving etc.