Women's Health exercise classes at Hoppers Physio aim to provide you with a safe, enjoyable and educational environment to achieve your health and fitness goals. We have various educational sessions and exercise classes to choose from to cater for your needs according to your stage in life.
---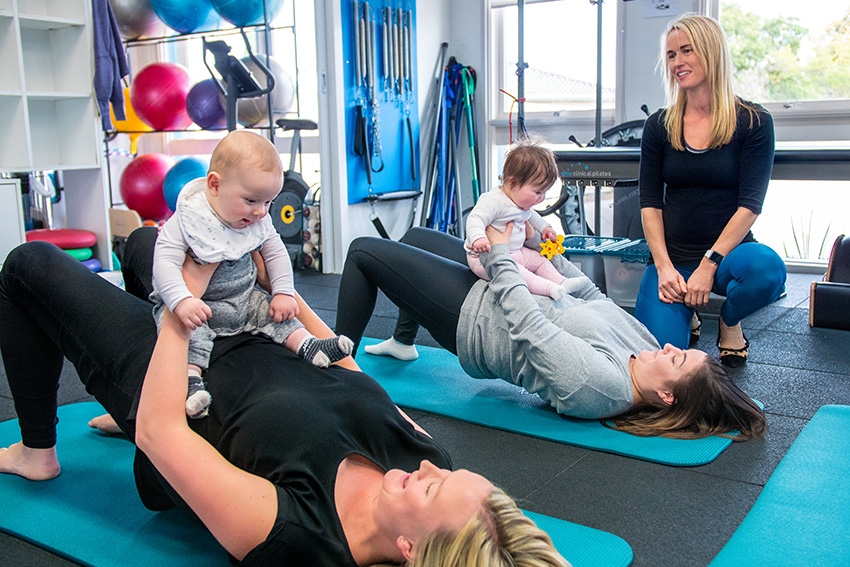 Our Parent's and Bubs Clinical Program classes cater for all women in the post-natal period who are looking to return to exercise. Your babies are invited to come along and join in the fun, whether that be sleeping in the pram, playing on the mat or being used as an added weight to your exercises.
This is a group based clinical program class suitable for women in the post-natal period. This class is great for those women who have had uncomplicated recoveries and are looking at regaining general fitness and core strength. Classes run for 45minutes and an initial 1:1 clinical program assessment is required before commencing.
Our Active Birth class runs for 90 minutes and includes a presentation regarding:
The stages of labour, what to expect physically and how to use your body efficiently to work with labour rather than against it, how and when to conserve energy – saving both your physical and mental energy until when you need it most, strategies to optimise positioning to utilise gravity to your advantage and also circumstances when you may need to position yourself differently to slow things down, the role of breathing and how it can be manipulated in different stages of labour, the role of physical and mental distraction, visualisation and vocalisation to reduce pain and manage one contraction at a time, practical tips to assist partners in supporting their labouring partner, with emphasis on positions of support (utilising fit-balls, pillows) and massage theory and practical use of TENS for labour, with hands on use of FreeMOMs TENS unit.
Contact our reception team to book your place in our next Active Birth Class
Clinical programs are an exercise methodology that centres on developing core strength to improve movement, posture and co-ordination. The exercises, which emphasise the lumbar region, abdominal muscles and pelvic muscles, are ideal for addressing the physical challenges faced by pre and post natal women. Find out more
Water Mums is an exercise class designed for pre and post natal women. During the 45-minute class you will perform exercises in warm water utilising the buoyancy and resistance of the water. The class is aimed at improving all-over muscle strength with a focus on strengthening the pelvic floor area. Find out more