Spring Back Into Gardening
March 2016 Spring Back into Gardening

Spring is a great time of the year lending itself to longer days, warmer weather and a rampaging garden growth. After our winter hibernation, we undertake our gardening chores and adopt all those lovely positions and postures that we try and refrain from to avoid the infamous lower back condition.
Bending and twisting to prune and pick out weeds followed by digging and shoveling all place undue stress on the lower lumbar spine and make our lumbar disc and intervening joints prone to injury. When this occurs its debilitating to our activities of daily living.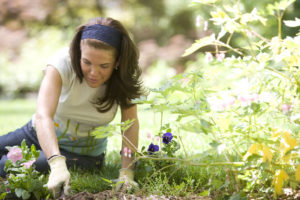 It's important to seek physio help to help diagnose and restore your mobility. Disc trauma in particular can lead to devastating effects on your overall wellbeing with an 80% chance of a second episode occurring. This is why one needs physio treatment for the current condition and prevention long-term via specific self managed home exercise regime.