Taping and strapping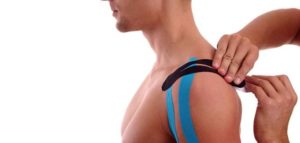 Taping and strapping
There are various strapping and supporting tapes, along with taping techniques that are commonly used by physiotherapists, for a variety of reasons. These various combinations may be used to:
Relieve pain
Improve joint stability
Stabilize or support an injury
Reduce re injury when returning to normal activity
Facilitate normal movement, muscular or postural patterns
Prevent injury
The different tapes used include:
Rigid strapping tape – also known as sports tape or athletic tape. As the name suggests, this style of tape is rigid in nature and is generally used to restrict movement.
Elastic strapping tape – can be used to compress and support joints or muscles, or when less rigidity or support is required.
Kinesiology tape – is designed to act more dynamically in supporting muscle and joint function, facilitating the body's natural healing process without restricting range of motion.
Issues related to taping
Occasionally there may be issues that arise following taping. Here's what you need to look out for:
Allergic reaction to the tape – if you notice that the skin around the taped area is becoming red, itchy, feels like it's burning or there are blisters forming, it may be an indication that you're allergic to the tape. If you experience these symptoms, or even if you're in doubt, the tape should be removed – gently (try softening the tape with water first), but immediately. Make sure you inform your physiotherapist – if you're aware of previous reactions, inform your physio prior to tape being applied as they may have an alternative tape.
Your injury is feeling aggravated – if your feeling as though the tape is aggravating your injury, it needs to be removed.
The tape is too tight – if you notice that the skin below the taped area is losing its normal colour, or you are experiencing pins and needles or numbness – the tape is too tight. Remove immediately.
In each case, it is important to inform your physiotherapist so that they can apply a different method to ensure a positive outcome.
Your physio should advise you on the suitable amount of time to leave the tape in place. Leaving the tape on for a longer period can have negative effects, so it is important to follow their instructions.
For the best strapping type and technique for your injury needs, contact our experienced Hoppers Physios. We're dedicated to maximizing your health and well-being – including your strapping and taping needs. Call us at Hoppers Physio today on (03) 9749 5110, and let our friendly team schedule an appointment for you.